The Armory is a place-able building that can be constructed at any location on the island and can also be upgraded using an island's resources. This building allows for players to purchase armor with Gold for use in Warfare with other islands. To purchase armor, one must speak with Frank the Tank inside the Armory building.
Each level of Armory will provide players with the ability to purchase better armor, indicated by the material the armor is made out (leather, chain, iron, diamond) and each armor's statistics seen by hovering over the item. Unlike Vanilla Minecraft, all armor pieces of the same level will have equal durabilities, meaning all armor will break at the same time.
All entries listed below are found in every level Armory after their original listing.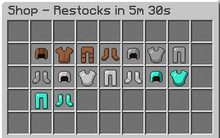 Armory 1

Leather Armor
Cloth Cap
Cloth Shirt
Cloth Tights
Cloth Slippers
Physical Resistance
13
34
26
13
Durability
70
70
70
70
Gold to Purchase
20
50
35
15
Armory 2

Chain Armor
Soldier's Helmet
Soldier's Chestplate
Soldier's Leggings
Soldier's Boots
Physical Resistance
23
60
45
23
Durability
138
138
138
138
Gold to Purchase
30
75
45
25
Armory 3

Iron Armor
Commander's Helmet
Commander's Chestpiece
Commander's Leggings
Commander's Boots
Physical Resistance
37
96
72
37
Durability
207
207
207
207
Gold to Purchase
80
145
105
70
Armory 4

Diamond Armor
Royal Helmet
Royal Chestplate
Royal Leggings
Royal Boots
Physical Resistance
54
142
106
54
Durability
276
276
276
276
Gold to Purchase
160
250
190
150
Warfare
Although this building supplies players with armor to use in Warfare, this armor must be purchased before Warfare starts. Thus, the building serves no purpose during Warfare.
Upgrades
In order to upgrade the Armory, a player must expend Wood and Stone and also wait for the Upgrade time to expire. Each upgrade also allows for Frank the Tank to sell higher quality armor for players to purchase with Gold.
Construction of Armory 1 | 96 stone, 24 wood, 15 minutes | Reward: Cloth Armor
Armory 1 → Armory 2 | 360 stone, 90 wood, 30 minutes | Reward: Soldier's Armor
Armory 2 → Armory 3 | 1200 stone, 300 wood, 45 minutes | Reward: Commander's Armor
Armory 3 → Armory 4 | 4160 stone, 1040 wood, 60 minutes | Reward: Royal Armor
History