Jurassic World: Dominion Dominates Fandom Wikis - The Loop
Play Sound
The Alchemists is a place-able building that can be constructed at any location on the island and can also be upgraded using an island's resources. This building allows players to purchase potions with Gold for use in Warfare. To purchase potions, the player must speak with Al the Alchemist inside the Alchemists. The Alchemists can have skins, which changes its layout and cosmetic look. Current Alchemists skins include Human skin (default), Elven skin, Ninja skin, Futuristic skin, and Demonic skin.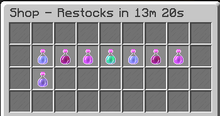 Each tier of Alchemists will provide players with the ability to purchase unique potions. All entries listed below are found in every tier Alchemists after their original listing.
Shop
Alchemists 1

Item Sold
Price
Duration
Speed I
40 gold
4 minutes
Alchemists 2

Item Sold
Price
Duration
Strength I
50 gold
4 minutes
Alchemists 3

Item Sold
Price
Duration
Regeneration I
80 gold
45 seconds
Jump Boost I
70 gold
60 seconds
Speed I Extended
90 gold
8 minutes
Alchemists 4

Item Sold
Price
Duration
Strength I Extended
110 gold
8 minutes
Regeneration II
170 gold
20 seconds
Invisibility
200 gold
45 seconds
Warfare
Although this building supplies players with potions to use in Warfare, these must be purchased before Warfare starts. Thus, the building serves no purpose during Warfare.
Upgrades
In order to upgrade the Alchemists, a player must expend Wood and Stone and also wait for the upgrade time to expire. Each upgrade also allows for Al the Alchemist to sell more unique potions for players to purchase with Gold.
Construction of Alchemists 1 | 150 stone, 300 wood, 25 minutes | Reward: Speed I
Alchemists 1 → Alchemists 2 | 450 stone, 1050 wood, 50 minutes | Reward: Strength I
Alchemists 2 → Alchemists 3 | 1335 stone, 3115 wood, 75 minutes | Reward: Regeneration I, Jump Boost I, Speed I Extended
Alchemists 3 → Alchemists 4 | 2400 stone, 5600 wood, 100 minutes | Reward: Strength I Extended, Regeneration II, Invisibility
History